"Self-care is taking good care of myself so I can take care of my family", says Delle, 38, a hospital administrator and a mother of three. Her words capture our collective progress and motivation in coping with the COVID-19 pandemic. Two years into it, we learned how to better take care of ourselves, our families, and communities. When the cases surged in January 2022, businesses voluntarily and temporarily closed, sick Filipinos stayed at home, and eventually, the cases went down without having to go through another hard lockdown. We also started becoming more intentional about when we access medical services. An RT-PCR swab had to be negative, which was an additional expense. Quarantine and isolation facilities meant being away from the support of family and friends. If anything, the pandemic taught us that we could easily be one sickness away from poverty. Truly, health is wealth.
July 24 marks this year's International Self-Care Day with the theme #SelfCarePromise. The World Health Organization broadly defines self-care as the ability to promote and maintain health, with or without a healthcare provider. In a series of 25 interviews that we conducted, we found that no two persons defined self-care in the same way. While commonly interchanged, self-care is not only self-medication. It is instead the entirety of healthcare: health promotion, nutrition and healthy lifestyle, treatments, palliative care, and even recreational activities including stress management through prayer and hobbies. At its core, self-care is personal and centered around an individual's needs, circumstances, traditions, and beliefs.
"Self-care allows us to work every day and allows us to put food on our table", says Charlie, 24, from the Province of Bukidnon. He is a father of three and works odd jobs while his wife sells vegetables at the market. Responsible self-care allows us to help the health system by only going to the hospital when necessary. Globally, it is estimated that self-care saves up to USD 199 billion. This translates to PhP 11 trillion, twice the national budget for 2023.
Underpinning self-care is health literacy. Health literacy – the ability to access, process, and understand health information, but most importantly, evaluate them – is critical as we make health decisions. While we are a highly literate society with more than 90% of Filipinos able to read and write, only half are reportedly health literate. To better practice self-care, we need to strengthen our health literacy and awareness. This means engaging with health providers by asking questions and critically evaluating what we read or hear online. The pandemic hastened the adoption of telemedicine and provision of healthcare via the Internet. It became a safe, effective, and affordable alternative to health facility visits. However, there remains a gap among Filipinos of older age, in remote areas, and among those in the socioeconomically disadvantaged groups.
Making progress towards Universal Health Care, which aims to provide quality and affordable health services, will mean leaving no Filipino behind. Doctors and other health providers can improve health literacy of patients by empowering them to make informed health decisions. Pharmacists, in particular, are uniquely positioned to provide advice on how and when medicines should be taken. The pharmaceutical industry must continue to pursue scientific breakthroughs to prevent and treat diseases and improve people's lives. The media also has a role to play: disseminate accurate, accessible, and timely health information. Most importantly, for the government, we need a policy and built environment supportive of responsible self-care. This means creating guidelines and policies that promote primary care and expanding social safety nets to prevent Filipinos from being pushed to poverty when they access healthcare. This also means reforms in design and infrastructure including: building more walkways to encourage walking and riding of bicycles, developing open spaces into parks, and offering healthy food choices.
Self-care is an underappreciated but a vital part of healthcare that requires each Filipino's participation, and a culture and environment supportive of self-care. After all, a healthy country is only made possible with healthy citizens. As we celebrate International Self-Care Day, we encourage everyone to make a commitment to a healthier future.
Disclosure
The Value of Self-Care in the Philippines study conducted by the Ateneo School of Medicine and Public Health (ASMPH) Center for Research and Innovation was funded by Sanofi Consumer Healthcare as part of their global commitment to put people's health in their hands to help them better care for themselves, their families, their communities, and the planet.
Dr. Manuel M. Dayrit is a Professor and former Dean of the Ateneo de Manila University School of Medicine and Public Health (ASMPH). He heads the Health Governance Flagship Program at the ASMPH Center for Research and Innovation (ACRI). He wrote this piece with the support of Arianna Maever L. Amit and Veincent Christian F. Pepito, adjunct research faculty members at ASMPH.
Subscribe to our opinion newsletter

For more news about the novel coronavirus click here.

What you need to know about Coronavirus.

For more information on COVID-19, call the DOH Hotline: (02) 86517800 local 1149/1150.

The Inquirer Foundation supports our healthcare frontliners and is still accepting cash donations to be
deposited at Banco de Oro (BDO) current account #007960018860 or donate through PayMaya using this
link.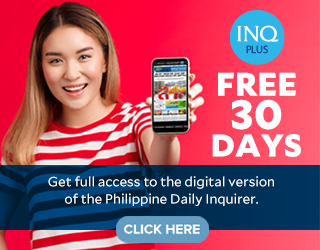 Read Next
Subscribe to INQUIRER PLUS to get access to The Philippine Daily Inquirer & other 70+ titles, share up to 5 gadgets, listen to the news, download as early as 4am & share articles on social media. Call 896 6000.
For feedback, complaints, or inquiries, contact us.
Topics
#Alternative
#Beauty
#Health Care
#Medicine
#Popular Diets